Whiskey Child Records is Thrilled to announce SomeWhere OutHere music is included in the badass, brand-spanking-new movie EATING MISS CAMPBELL and the Motion Picture Soundtrack as well, which is directed and written by Liam Regan and produced by Lloyd Kaufman of TROMA ENTERTAINMENT! Director and Writer LIAM REGAN recently reached out to Trey McGriff to create a very catchy and custom piece of music to perfectly fit into one hell of a must-see film! The results were mind-blowing and now etched into EATING MISS CAMPBELL forever.
Trey's original song "Fellatio on the 4th of July (The Mean Girls Mix)" by SomeWhere OutHere, is included on the EATING MISS CAMPBELL Original Motion Picture Soundtrack and Vinyl Album! Featuring the very best in alternative music featured in, and inspired by the movie Eating Miss Campbell. Featuring hard hitting tracks from well-known artists such as: Wheatus, The Black Halos, Twiztid, Unquiet Dead, SomeWhere OutHere, and many more! 
Troma's Eating Miss Campbell kicks off its theatrical run with it's East Coast Premiere screening on Saturday, February 11th at Smodcastle Cinemas in Atlantic Highlands, New Jersey with a Q&A with LLOYD KAUFMAN & LIAM REGAN, moderated by "Silent Bob" himself KEVIN SMITH (Clerks & Tusk) live on stage! Click the image below to get your Tickets for EMC at Smodcastle Cinemas!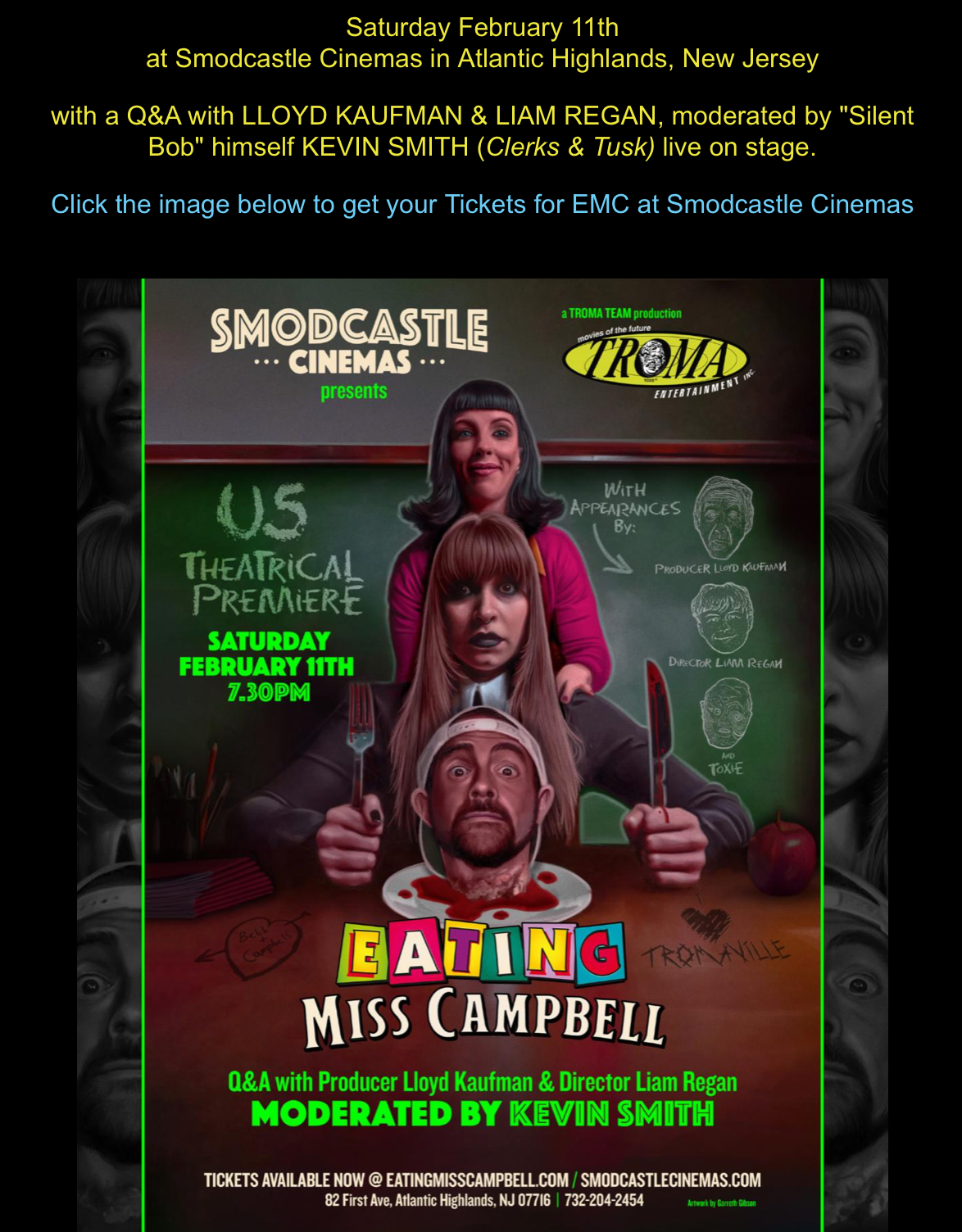 Eating Miss Campbell follows a vegan-goth high school student who falls into a taboo relationship with her new English teacher and soon develops a problematic taste for human flesh. 
Featuring a cast of genre favorites including LAURENCE R. HARVEY (The Human Centipede sequels), LYNDSEY CRAINE (Book of Monsters), VITO TRIGO (My Bloody Banjo) and LLOYD KAUFMAN (The Toxic Avenger) with an original score composed by OSCAR® WINNER JOE RENZETTI (Child's Play, Poltergeist III & Frankenhooker). 
Heavily Influenced by the work of producer LLOYD KAUFMAN, filmmaker LIAM REGAN has crafted a British Troma film where teenage crushes and cannibalism collide a gut-busting and gore-soaked, comedy horror that pushes just about every boundary socially constructed. 
Eating Miss Campbell Trailer: https://www.youtube.com/watch?v=Yrxs2_NLf18 
Eating Miss Campbell Press Kit: EATING MISS CAMPBELL EPK (adobe.com)